Environmental Management System
Scope of Registration: The Design/Development, Manufacturing and Installation of Paint Finishing System
Associate Organization:
Bangplee Factory
445 Bangplee Industrial Estate, Bangsaothong, Samutprakarn, Thailand.
The Manufactoring of Equipments for the following systems:
- Air conditioning and ventilation system
- Plumbing and sanitary system
- Cleanroom system
- Electrical system
- Industrial utilities system
- Paint finishing system
Certifying organization: JQA
Certificate number: JQA-EM6270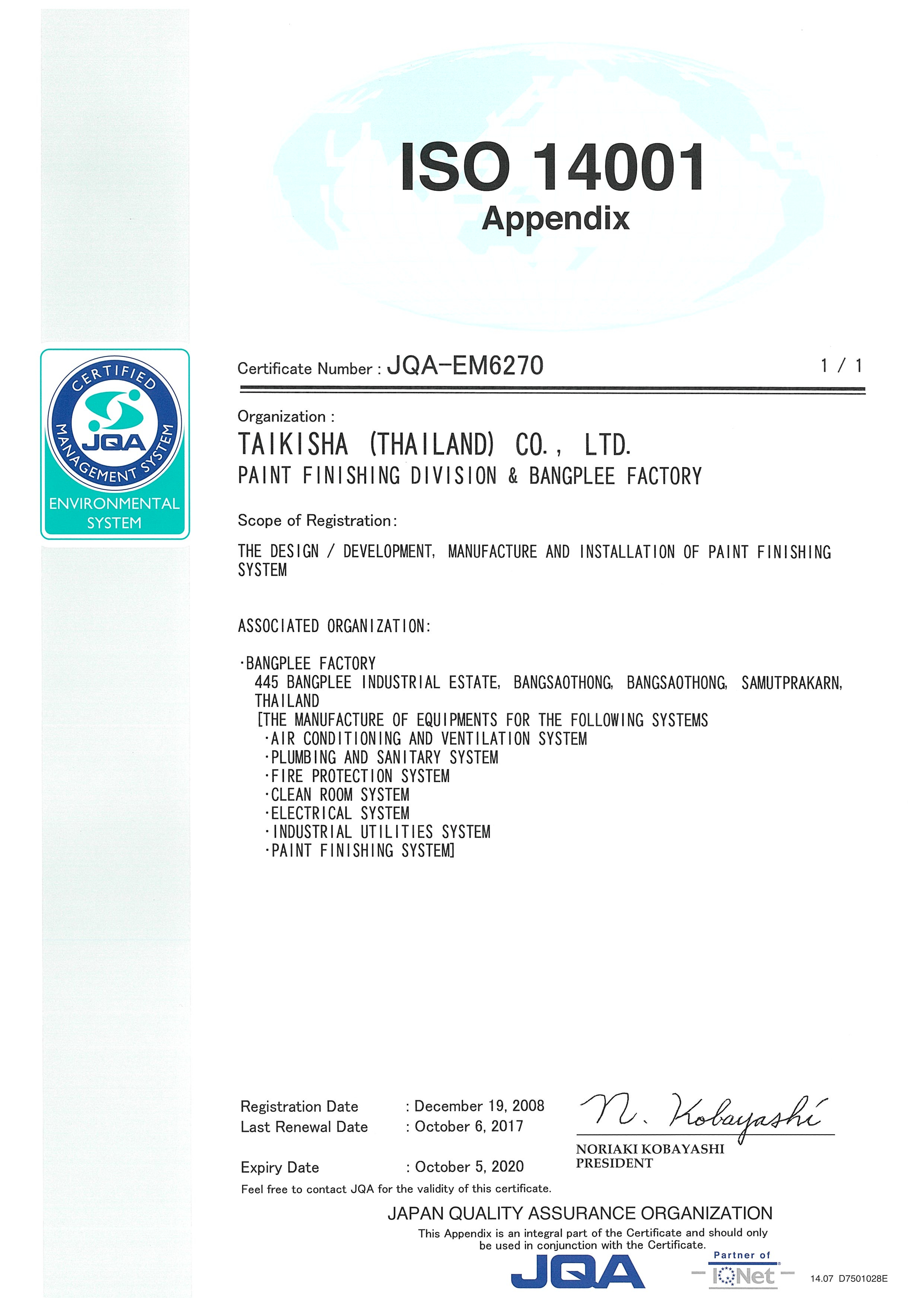 Occupational Health & Safety Policy
As the leading mechanical construction company, Taikisha (Thailand) Co., Ltd is committed to provide and maintain a safeand healthy working condition for all employees, subcontractors and site visitor on project sites as most importance for our business by the following approach;
1.    Maintain compliance with all federal and local occupational health & safety law and regulation.
2.    Insist that occupational health & safety at work is the first priority and major responsibility of all employees
     and those under the company control.
3.    Commit to promote occupational health & safety mind include aware of danger at work & out of work among employees
      and those under the company control.
4.    Incident & Accident report is important information for our company.
5.    Regard all workers and employees opinion and suggestion for working condition improvement
      and shall take consideration for those opinions.
6.    Provide adequate resources, information and training to support, promote,
      and ensure that the objectives set by management team are accomplished.
7.    Measure performance of each related business against the objective on a regular basic along with proposals
      for the continuous improvement of the standards achieved.